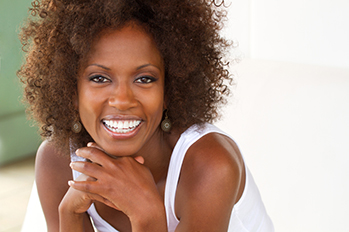 At the Offices of Douglas B. Weber, DDS in Lancaster, CA we believe in enhancing your existing smile, and bringing out the best in your current smile. One of the ways to improve your appearance is the subtle recontouring of your existing teeth. Many of us have subtle chipping, worn edges, or rough surfaces that no longer feel smooth to our tongue. The smoothing and reshaping of these edges, especially in addition to Cosmetic Bonding can improve the appearance of your teeth while smiling, and minimize the chances of sensitivity that can occur from more extensive changes to your smile.
Just like conventional bonding, cosmetic bonding adheres tooth colored repair material to your teeth to improve the shape, shade and appearance. Unlike conventional bonding, where the inside layer of your tooth is exposed, due to decay or fracture, cosmetic bonding often covers or adds to existing tooth structure, changing the shape of your teeth, to close spaces, subtly lengthen after early wear, or reverse the effects of early wear, while the enamel is still intact. Dr Douglas B. Weber, in Lancaster CA believes that your best smile is already with you, and our goal is to enhance it.
If you are not sure if you are a candidate for Cosmetic Bonding, Recontouring, or any cosmetic procedures, complete our appointment request form, and one of our Team will contact you with details about a Complementary Smile Evaluation.