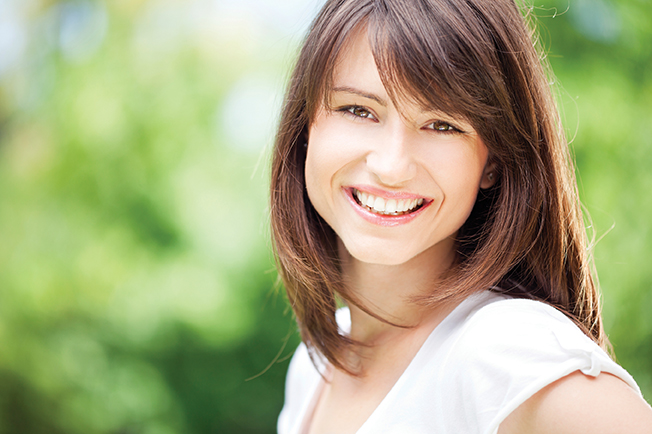 At Douglas B. Weber, D.D.S. in Lancaster, CA, we know that your smile is more than an accessory — it is key to your feelings about yourself and the world around you, and it strongly influences how others perceive you. When you hide your smile, you hold back your joy and could even push people away from you. If there's something about your smile that makes you cover it up every time you laugh, you're a perfect candidate for our smile design services, which include treatments like teeth whitening, veneers, and dental implants.
Our Approach to Smile Design
Like our approach to your dental plan, at Douglas B. Weber, D.D.S., Lancaster dentist Dr. Douglas Weber views designing your smile as a collaboration. First he meets with you to learn more about your lifestyle and goals, as well as what you want your new smile to look like, and then he develops a plan to make it happen.
Smile Design Services
Smile design improves both the appearance of your smile and your overall health. An important part of smile design is addressing underlying health issues, such as tooth decay, so that your smile is not only beautiful but also healthy. After your oral health is restored, you and one of our smile design experts may decide to move forward with cosmetic treatments such as:
Dental implants: Implants offer a permanent, long-term solution for missing teeth. Not only do they look and feel like natural teeth, they also maintain your facial structure and integrity.
Crowns: Porcelain crowns are the perfect restoration for cracked, chipped, or broken teeth. These natural-looking covers make imperfections in teeth entirely unnoticeable.
Teeth whitening: We offer both at-home and in-office treatment options using the most effective teeth-whitening systems available today. All treatment options are simple and noninvasive.
Veneers: These ultrathin, tooth-colored coverings are custom made and are fit to the front surfaces of your teeth, changing the appearance to the size and shape you desire. Veneers are perfect for fixing discolored and chipped teeth.
Straightening: Straightening your smile no longer requires years of wearing metal wires on your teeth. There are a variety of "invisible" straightening options which allow you to have a straighter, more esthetically pleasing smile in just a matter of months.
FAQ
Q. How affordable is a smile makeover?
A. The cost of a smile makeover depends on your oral health and the extent of the services you would like to receive. Fairly straightforward treatments, such as teeth whitening, cost less than more extensive applications, such as veneers.
Q. Does dental insurance cover smile design and cosmetic dentistry?
A. Your insurance may cover some of your smile design treatments. It's best to check in with your provider ahead of time so you know what they will and will not cover, and how much they cover.
Q. How does smile design impact my health?
A. As part of your smile design treatments, your oral health will be restored. This must happen before any cosmetic work is done.
Call (661) 952-7865 today to schedule an appointment with our Lancaster dentist, Dr. Douglas Weber, and get the smile you have always wanted.