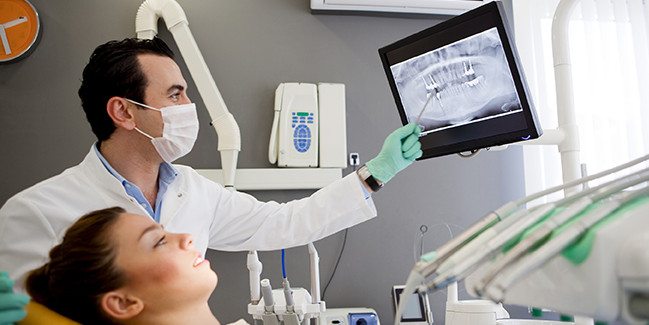 At Douglas B. Weber, D.D.S., we invest in state-of-the-art technologies as part of our commitment to providing you with ongoing superior service. Cutting-edge equipment enhances Lancaster dentist Dr. Weber's ability to detect oral health issues early on, to provide personalized treatments, and to execute our treatment plans with unmatched accuracy and excellence.
Our investment in technology allows us to enhance your patient-centered dental experience from the first moment you step into our office until the moment you leave. Using advanced data-management systems, we fast-track the check-in and checkout process, allowing you more time to relax before your appointment. Then, whether you need routine x-rays or a complete restoration, we use top-of-the-line equipment to enhance comfort, ensure safety, and speed up the treatment process. Our state-of-the-art technology includes:
Intraoral Cameras: This is a highly advanced piece of diagnostic equipment that allows you and Dr. Weber to clearly see inside your mouth. The handheld camera can zoom in on a specific tooth, and all of the images are displayed on a television screen so that you can be an active part of your treatment.
COMING SOON-Digital Impressions: Digital impressions allow Dr. Weber to create a virtual, computer-generated replica of the inside of your mouth using cutting-edge technology. The captured impressions are highly accurate, generated in minutes, and used to create restorations.
Digital Radiographs: This form of x-ray imaging uses special sensors instead of traditional film, transmitting images to a computer almost immediately. It is efficient, comfortable, and highly accurate, and it reduces the level of radiation the patient receives.
Laser Caries Detection: Using laser technology to explore the condition of the patient's teeth, this handheld, pen-shaped technology identifies instances of caries that are hidden, or in their earliest stages, when the caries fluoresce as the light passes over them, resulting in low-scale readings on a display unit.
At the office of Douglas B. Weber, we regularly upgrade our equipment because we know that advanced equipment ensures more accurate assessments, which means a better solution for your dental needs.
Call (661) 952-7865 or use our online appointment request form today to schedule an appointment with Lancaster dentist Dr. Douglas Weber, and learn how we use our advanced dental equipment to fit your needs.